The costume created more than 25 years ago for New Line Cinema's ultimately aborted film,
The Adventures of Fartman --
and unveiled at the 1992 MTV Video Music Awards to promote the film -- sold at auction on December 1st. It brought in $10,000.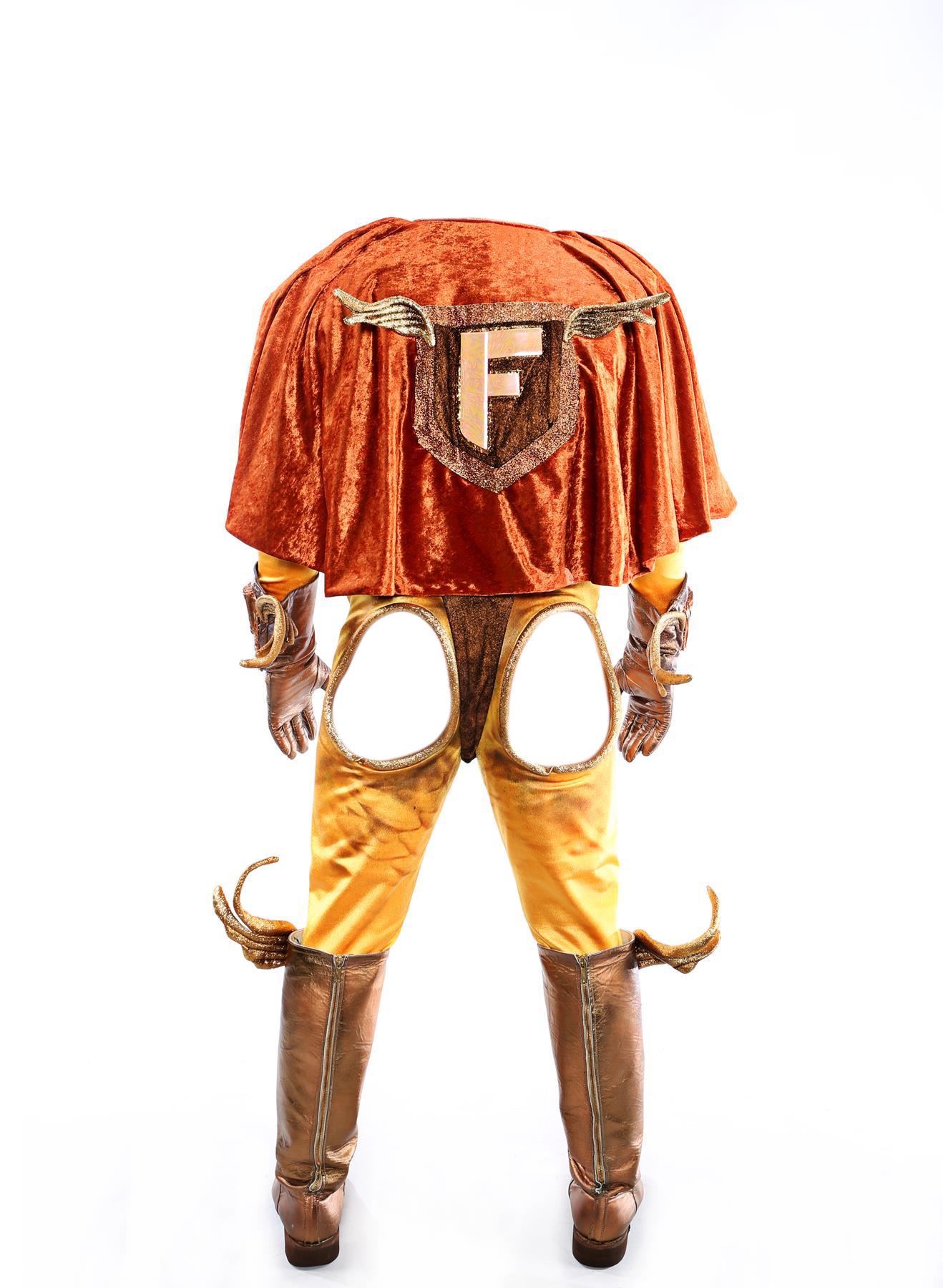 That's exactly what it cost to build back in 1992.
The Adventures of Fartman
was intended to be Howard Stern's first major film. J.F. Lawton, writer of the screenplay of Howard's favorite movie,
Pretty Woman
, wrote the
Fartman
screenplay and planned to direct. He forego payment for his writing services, expecting a much larger payday down the road.
The film deal fell apart over royalties. Howard wanted the sole rights to sell Fartman merchandise to his fans, but New Line, still kicking themselves for not owning the merchandising rights to their Teenage Mutant Ninja Turtles franchise, refused. Howard took the high road and claimed the deal fell apart because his art demanded an R-rating, rather than the PG-13 rating New Line wanted.
Lawton said about his script: "There's a lot of nudity, some harsh language, a lesbian love scene, and the main character works for an underground sex magazine." Lawton was never paid for his work. The closest it came to seeing the light of day is the excerpt presented in comic book form in
Miss America
:
Note the credit, "Based on a character created by Howard Stern." Howard Stern did not create the Fartman character. He stole it from National Lampoon:
He even stole Fartman's manner of speech from the album National Lampoon released:
Howard has rewritten history to claim that he made a joke about making a Fartman movie on
The Tonight Show
, and the next thing he knew, studios were taking him seriously. But this isn't true. He promoted the Fartman movie on his first appearance on
The Tonight Show
on October 23, 1992. But he had already promoted it on the MTV Awards more than a month earlier, on September 9.
Howard picked up the pieces of his failed movie (which followed the cancelation of his Channel 9 show in August of 1992) by agreeing to write a memoir, due to the surprise smash success of Rush Limbaugh's book. Howard used the exact same editor Rush used, Judith Regan.
He expected to make
The Adventures of Fartman
as a follow-up to his debut
Private Parts
, but it performed so badly at the box office that there was no follow-up.